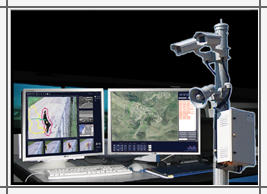 CCTV Surveillance

Security Systems Division in Eldor Communication Technologies Ltd. is responsible for the planning and deploying of integrated projects of security, command and control systems in Israel and abroad, and for importing, marketing and installation of a large product range in the CCTV systems field.
Our activities include:

CCTV systems
Planning and deploying of advanced outdoor and indoor CCTV systems,
Design and deployment of infrastructure network, camera poles, cameras and day & night, long & short range observation system
Control Room with the most advanced command and control software / hardware.
Integrated CCTV systems with building and security control systems.
Digital Recording Systems
Sole distributor of various unique digital recording systems.
Audio digital recording with 4, 8, 16 channels, systems with multiple channels.
Video digital recording with 1, 8, 16 channels, systems with multiple channels.
Real time video and audio recording in full synchronization.
VMD – Video Motion Detector
Distributor of leading VMD manufacturer companies in Israel, over 200 VMD channels installed in the past year, among our customers in VMD installation: Israeli army, Community settlements, Sub-Power Plants, various institutes buildings fence line, Road Number 6 Toll Highway and more.
Modular protection suite for unmanned and remote locations
Planning and deploying projects in remote control and security field. -The system includes transferring and recording video & audio, outdoor and indoor cameras, announcement system, detecting and fire extinguishing and also control resources on the location.
All this within the existing communication range in disposal of the customer, such as: Cellular networks, telephone lines, LAN/WAN computer networks, wireless, etc…